For whom the course is designed
The course is intended for girls and boys from 7 to 12 years. The basic physical activities are in accordance with the age and physical condition of the child. Absolute beginners and those who already have martial arts experience can come to the training at any time.
How a shin karate training course looks
The training consists of several parts: opening meditation, warm-up exercises (stretching the entire body), practicing basic techniques of punches and kicks alone, practicing techniques in motion, training techniques in pairs ( with the master) with boxer's mitt, training techniques of defense and attack, controlled fighting, free-form fighting (advanced), strengthening exercises, closing meditation.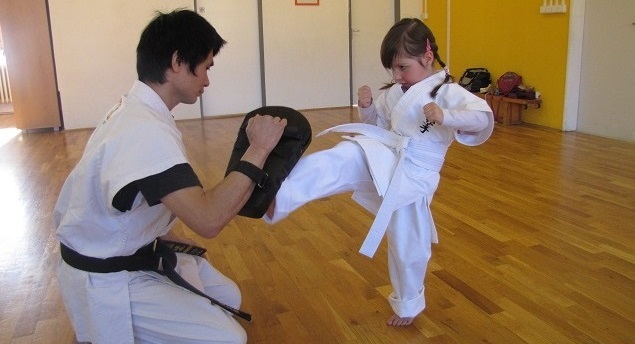 The benefits of shin karate
Shin Karate for children is characterized by a greater frequency of kicks in combat (due to safety restrictions). Children are therefore well prepared for a real fight. Shin karate contributes to the healthy psychomotor development of children. Children grow stronger both mentally and physically. We teach children how to handle their strength and skill to fight. Thanks to the fact that children recognize the pain of the blows and kicks, they can deal sensitively with this force. We teach children not to misuse their art.
Kiai is the alignment of the breath and movement, teaching kids to release pent-up energy from themselves that needs to get out. We do this not only through movement, but also by involving the voice in exhalation, during the techniques of kicks and punches. Through regular training they can advance in technical degrees (regular testing for belts).
Safety
For safety reasons, blows to the head are not used in fighting practice. For combat training a helmet is always used.
Our approach to children
We strive to create a warm atmosphere, which naturally encourages the motivation for self-improvement in children, overcoming difficulties and exploring their own boundaries. We place emphasis on dialogue and communication with children so that the source of wanting to practice comes from themselves and not from external pressure in the form of commands and prohibitions. Nevertheless, you cannot say that we are not strict in training. We try to respect the children in their needs and observations while we also want them to respect the master and each other.
Equipment
Initially, your own comfortable clothes for sport, no shoes, we practice barefoot, a drink
A Shin karate kimono can later be ordered right in the dojo
After about ten trainings a child is ready for basic training of defense and attack, when it is necessary to own these protectors: Hand protectors (gloves), Shin guards, ankle and instep guards, a jock strap (possibility of ordering in the dojo)
Price
The first class is free of charge
Membership fee for semmester (Sep-Jan and Feb-Jun) 2400 CZK
Place and time: see schedule
---