For whom the course is designed
Shin karate fighting techniques are intended for adults, beginners and advanced. For beginners, we recommend initially attending several hours of the basic course, but this is not required. See our beginners approach.
How the sparring techniques training looks
This is a short (60 min) intensive combat training. We concentrate on technical exercises in pairs, conscious choice and drilling of attack and defense. Of course, we focus on free-form fighting or themed battle. Not so much focus is placed on the other features of improvement in the training (endurance, strength, etc.) that are part of the basic course.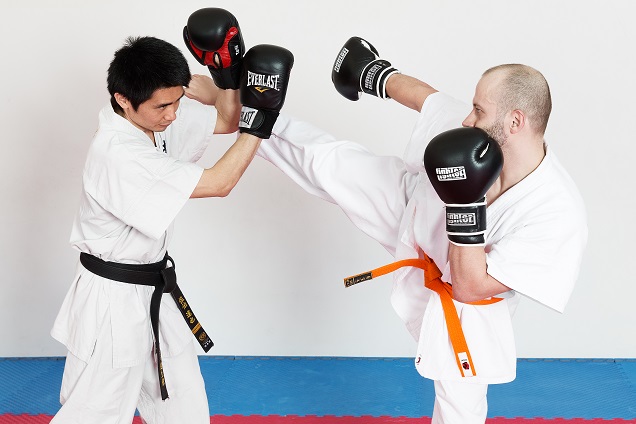 Benefits of the fighting techniques course
Thanks to this course, members can shift from the phase of chaotic attacking to really well thought out and conscious fighting.
Safety
Only more experienced members participate in the actual fighting. Beginners need not worry that they will be subjected to a real test of combat in the very first hours. On the contrary. They learn slowly one technique of defense and attack after another, until they reach the required level. Then simpler to more complex exercises start to be integrated. Everything is done under the supervision of the master. We recommend that you obtain the necessary equipment for fighting.
What to bring to the first lesson
Comfortable clothes, a drink, we practice barefoot
A Shin karate kimono can later be ordered in the dojo
Equipment
For beginners who do not have their own equipment boxing gloves and shin and ankle protectors can be rented.
Here is a complete list of equipment that you will need after about 2 months of training:
For practicing combat techniques: mandatory 14 oz boxing gloves, shin ankle and instep protectors
For controlled and free-form sparring: mandatory 14 oz boxing gloves, shin-instep and ankle protectors, jock strap, mouth guards, we recommend knee pads and a helmet
Price
The first class is free of charge.
Membership fee for semmester (Sep-Jan and Feb-Jun) 2500 CZK
In combination with Basic course 4000 CZK
Place and time: see schedule
---